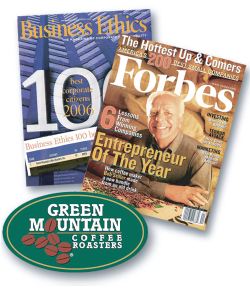 Green Mountain Coffee Roasters, Inc. (
www.GreenMountainCoffee.com
) is a recog- nized leader in the field of specialty coffee and the emerging practice of corporate social and environmental responsibility. Business Ethics magazine ranked Green Mountain Coffee Roasters #1 on its list of "100 Best Corporate Citizens" and CEO Robert Stiller has been named Forbes magazine's "Entrepreneur of the Year."
Green Mountain Coffee Roasters (GMCR) and The Green Mountain Coffee Roasters Foundation supported the renovation and restoration of an important community landmark-a historic railroad station in downtown Waterbury, Vermont where GMCR is headquartered. Their vision: to create a visitor center where the public, the local community, GMCR business partners, and others could learn about the GMCR story, global coffee communities, and enjoy a great cup of coffee.
Green Mountain Coffee Roasters retained The Resource Network to bring this complex and strategically important project to life.
Strategic Planning and Analysis:
The Resource Network began by determining three critical pieces of information: 1) What are the objectives of the visitor center? 2) Who is the audience for the visitor center? 3) What resources are needed to successfully bring the visitor center to life? Through its Resource & Audience Audit process, The Resource Network conducted extensive research, including in-depth interviews with key community and project stakeholders, in order to provide a clear picture of the existing assets and both known and possible challenges to the project before work began.
Conceptual Design:
The Resource Network refined the vision of what the visitor center could and should be, with an eye not only toward opening day, but looking at how it should evolve over time.
Budget & Implementation Planning:
The Resource Network developed and managed a detailed budget and implementation plan to deliver the project on time and on budget.
Resource Identification:
A key success driver for the visitor center was identifying the team that would bring the GMCR story to life through interactive design, engaging content, and the thoughtful expression of ideas. The Resource Network assembled a world-class team with the right mix of experience, perspective, and creativity to deliver a powerful audience experience through the visitor center.
Project Management:
Throughout the project, The Resource Network's careful management and reporting enabled work to proceed without burdening GMCR key staff. This process allowed the client to be as involved as they wanted to be throughout the project's life cycle.
Results:
The Green Mountain Coffee Roasters' Visitor Center tells the client's unique story and the story of coffee and the world coffee community with intelligence, passion, and a wonderful sense of fun. Its opening was met with expressions of pride and appreciation from Vermont's Governor, the local community, Green Mountain Coffee Roasters' employees, and the CEO, who proclaimed it an ASAP "must see" for every person in the company.
Contact us
if you have a challenging project where disparate components need to be aligned into a dynamically cohesive whole.