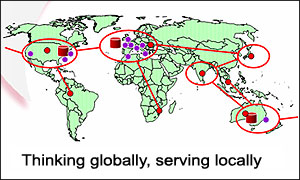 More than 800 users
working from 40 offices in 14 countries
using 14 servers worldwide
More than 290,000 accounts
with more than 600,000 contacts
Over 2/3 of the Global 500 companies
Nominated for a Microsoft Industry Solution award
and selected as one of the top sales solutions in the world
Pat Horner, Vice President for Sales for then INTERSOLV, was faced with "information out of control" and the desire to focus the energies and results of a sales team distributed throughout North America. He retained The Resource Network to assist management of this global software company in bringing together information to understand and focus on key sales opportunities and customers.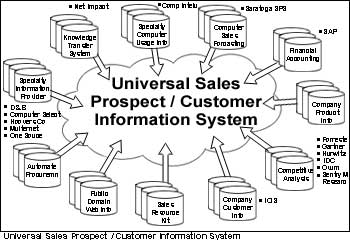 Starting from spreadsheets and the visual creation of a "Universal Sales Prospect/Customer Information System" cloud we devised a solution that aggregated information from internal and external worlds. We worked as a catalyst between sales, marketing, IT and finance and external providers - working from a sales perspective in a way recognized by Gartner Group as exemplary. We helped bring together functions and places listed on the left hand toolbar as we:
Worked with sales reps, the internal IT organization, and sales automation/CRM vendors to optimize use of sales productivity tools to better meet end user and management needs.
Brought together internal teams with business intelligence providers to compile extended customer enterprise profiles that helped leverage small disparate deals into some of the largest wins in company history.
Developed Sales Central as a web based resource that assimilated information from disparate sources and made it easily accessible to the global organization. Pulled information hourly from around the world and made it easily accessible for all.
Storyboarded the ideal set up of reports to provide a useful profile of a customer with top sales and finance people. Worked with IT and external resources to bring the pieces together for what became recognized as a true enterprise integration of technologies of Microsoft, SAP, Saratoga Systems , and Siebel Systems and global information services of Siebel Systems, Harte-Hanks Market Intelligence, Hoover's Online, One Source , and more.
Deployed interactive sales and pipeline reports by customer, opportunity, region, rep, currency, time frame and more.
Developed a Sales Team Profiler to easily identify and know the sales team.
Facilitated interactive global feedback including web and on-site "jam sessions". Listened, learned and continually improved the system.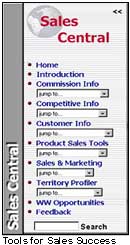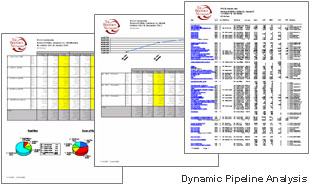 We transformed the "cloud" into a world-class system with world-class results. The system we developed for the company subsequently known as MERANT was nominated for a Microsoft Industry Solution award and selected as one of the top sales solutions in the world. Creative and dynamic sales users of the tools and information we provided were consistently ranked among the most productive and highest revenue generating sales producers in the company.
To learn more about what we do check out our solutions -
Virtual Integration
;
Enterprise Integration
;
Sales Solutions
;
Access & Optimization
or our other
Case Studies
.
Contact Us
if your organization is interested in bringing focus to your sales efforts.